Markets
FTSE 100
As of 15:59 25 September 2017 - Market open
index value

7302.24
index change:

-8.40
index change percentage: down

-0.11%
Open

7310.64
Previous close

7310.64
52 week high

7547.63
52 week low

6693.26
All market data carried by BBC News is provided by Digital Look. The data is for your general information and enjoy indicative status only. Neither the BBC nor Digital Look accept any responsibility for their accuracy or for any use to which they may be put. All share prices and market indexes delayed at least 15 minutes, NYSE 20 minutes.
Previous close
Latest updates
London Market Reports
Today 25.09.2017
12:12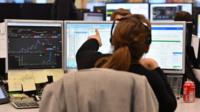 Shares in the former Apple supplier jump 30% on news it will be bought.
22.09.2017
17:32
FTSE up, sterling down
UK shares reversed early losses to finish higher as the pound lost ground against other currencies.
North Korea's threat to test a hydrogen bomb over the Pacific had hit stocks in early trading, but the FTSE 100 share index then recovered to close 47 points higher at 7,311.
The pound slipped 0.4% against the dollar to $1.352, and fell 0.5% against the euro to €1.131.
Markets were reacting to Theresa May's speech in Florence. The UK prime minister said there should be a two-year transition period after Brexit, during which trade should continue on current terms.
The FTSE 100's rise took the index to a week's high as the weaker pound boosted its mainly foreign-earning constituents.
Among the main movers, Smiths Group dropped 5.6% despite the conglomerate reporting a 17% rise in profit to £528m for the year to 31 July.
Analysts focused on Smiths' slight dip in underlying revenues, with Morgan Stanley describing it as "disappointing".
After jumping more than 14% on Thursday, shares in Johnson Matthey continued to rise, climbing a further 1.2%. Investors had cheered the company confirming its full-year sales guidance and the announcement of a £200m fund to invest in developing battery materials so it can benefit from the growth in electric cars.
UK government bond futures briefly rallied by around 15 ticks to a two-day high during May's speech, before paring gains to trade at around the level they were before she started.
17:27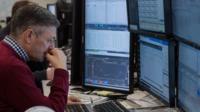 UK shares reverse early losses to head higher while the pound dips after Theresa May's Brexit speech.
21.09.2017
18:05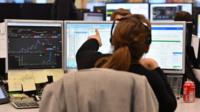 Johnson Matthey says it will spend £200m developing batteries for electric cars.
17:15
FTSE closes lower
Johnson Matthey was the stand-out riser on the FTSE 100, up 16.6% after the speciality chemicals company unveiled big battery technology plans.
The rise, though, didn't stop the index closing down 0.11% at 7,263.9 points. Kingfisher, a strong riser on Wednesday, fell 4%, as did Sainsbury.
The FTSE 250 ended down 0.63% at 19,418.
08:25
FTSE treads water
The blue-chip index is up a mere 7 points at 7,279 as trading gets underway.
CRH is the top riser after the Irish building materials firm said it would buy US cement maker Ash Grove Cement for $3.5bn to expand in North America.
Randgold is the biggest faller, down 2.9%.
On the FTSE 250, Capita has sunk 9% after profits fell following the sale of unwanted businesses.
The outsourcing giant's activities include designing the tunnels for Crossrail in London.
20.09.2017
17:16
FTSE flat
The FTSE 100 drifted between positive and negative territory during the day, eventually finishing just 3.3 points down at 7,272.
Defence firm Babcock rose 5.8% on the back of a trading update. Drinks giant Diageo was the biggest loser, also after a trading report. The shares fell 2.8%.
The FTSE 250 rose 5.3 points to 19,540.
12:14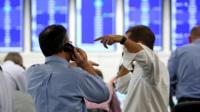 Shares in the retail group add 6.7%, despite its reporting of a 5.9% fall in half-year profits.
11:14
London stocks flat
The FTSE 100 is largely unchanged at mid-morning trading, with the blue chip index down 7.6 points at 7,267.5.
Kingfisher and Diageo continue to lead the risers and fallers respectively.
Shares in the B&Q and Screwfix-owner are ahead 5.4%, or 16p, at 312.4p after announcing its results for the first six months of the year.
Shares in the world's largest drinks maker extended their losses to trade 2.1% lower at £24.42 after admitting a late Chinese New Year (pictured) would hit first-half sales.
The pound is up 0.3% against the dollar at $1.3550 and 0.1% up on the euro at 1.1281 euros.
08:27
Kingfisher takes flight
Kingfisher shares soared in opening trade on Wednesday after it announced its interim results.
The B&Q and Screwfix owner's share price rose 5.4% to 312.5p, leading the FTSE 100 risers.
Diageo's warning that a later Chinese New Year and a ban on roadside alcohol sales in India would impact first half sales sent its shares down 1.6% at £24.55.
Overall, the FTSE 100 briefly opened higher before falling 6 points to 7,269.2.
In contrast, the FTSE 250 edged 11.3 points higher to 19,546.8.
Back to top