Markets
FTSE 100
As of 02:23 24 April 2017 - Market closed
index value

7114.55
index change:

-3.99
index change percentage: down

-0.06%
Open

7118.54
Previous close

7114.55
52 week high

7429.81
52 week low

5923.53
All market data carried by BBC News is provided by Digital Look. The data is for your general information and enjoy indicative status only. Neither the BBC nor Digital Look accept any responsibility for their accuracy or for any use to which they may be put. All share prices and market indexes delayed at least 15 minutes, NYSE 20 minutes.
Previous close
Latest updates
London Market Reports
21.04.2017
17:42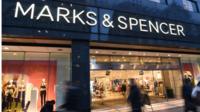 London share prices slumber on a quiet day for corporate and economic news.
20.04.2017
17:10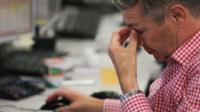 London share prices slumbered as the UK general election got underway in earnest.
19.04.2017
17:22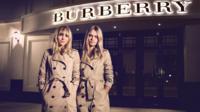 London's blue-chip index falls again, with Burberry tumbling almost 8%.
18.04.2017
21:37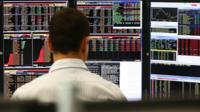 Sterling nears $1.2850 after Theresa May announces an election for 8 June, but shares suffer.
13:37
Pound 'the big winner' from election news
The pound is up about 0.8%, buying $1.267, after Theresa May's snap election announcement.
Laith Khalaf of Hargreaves Lansdown says:
"The pound was the big winner from news that a UK general election is in the pipeline, as currency markets bet on the current government winning a greater majority.
"The rising pound helped heap pressure on the UK stock market, which was already on the back foot thanks to declining iron ore prices hitting the resources sector."    
12:34
Pound pushes higher
The pound has made up lost ground - and more. It's at $1.267, that's 0.86% higher than this morning. 
It's up 0.64% agains the euro at 1.188 euro.
12:10
FTSE 100 slides after election announcement
The FTSE 100 has been heading lower since the Prime Minister announced that she would seek a June election.
The benchmark index is down 1.6% at 7,211.
The pound has reversed direction and is now trading higher, which tends to weigh on the big, international FTSE 100 firms.
Miners continue to lead the index lower, BHP Billiton and Glencore are down almost 4%.
Those shares have been hurt by falls in the prices of metals and oil.
08:14
FTSE 100 lower in early trading; Ladbrokes up
The FTSE 100 is lower in the early going. The benchmark index is down 0.3% at 7,306.
Ladbrokes Coral is up 3%, helped by an upgrade by analysts at Irish wealth manager Davy.
Bovis Homes Group is up 1.6%, also helped by positive analyst comments, this time from analysts at Jefferies.
13.04.2017
17:41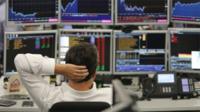 Banking shares drag the London market lower despite healthy results from US banks including JP Morgan.
08:34
FTSE 100 down; Primark-owner up
The FTSE 100 is down 0.5% in the early going, with the stronger pound not helping.
(Investors don't like the strong pound as it drags on the profits of the international companies of the FTSE 100.)
Associated British Foods is one eye-catching mover. The owner of Primark is up 3.3% after analysts at Jefferies upgraded the company's shares to a "buy".
Royal Mail is up 2.2% after confirming plans to close its pension scheme.
Back to top