Comey, Cohen and Stormy: What a whirlwind week means for Trump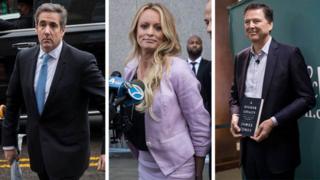 Whoever is writing the script for the political drama that Americans are currently living through needs to take it down a notch. The number of threads to the story is getting out of hand, and it's becoming difficult for even dedicated Washington-watchers, pundits and journalists to keep up.
This week alone has seen multiple developments in the swirling morass of controversy that has engulfed the Trump administration and those who have been or are investigating it.
Here's a quick review of the (exhausting) week that was.
Fallout from the Cohen raid
Just under two weeks ago, federal investigators raided the office and hotel room of Michael Cohen, Mr Trump's long-time personal attorney, business associate and all-around fixer of uncomfortable problems.
It represented a new legal front in the investigations into the president - including possible Cohen-orchestrated payments to women alleging affairs with Mr Trump - conducted by the US attorney's office in Manhattan, not special counsel Robert Mueller.
Read full article Comey, Cohen and Stormy: What a whirlwind week means for Trump