Trump makes a French election prediction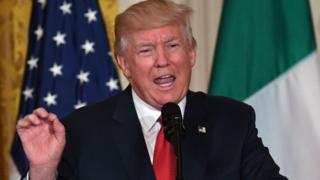 On Friday morning Donald Trump dipped his presidential toe into French electoral politics, tweeting about the possible impact of the Paris shooting on Thursday that resulted in one police officer dead and two seriously wounded.
"Another terrorist attack in Paris," Mr Trump wrote. "The people of France will not take much more of this. Will have a big effect on presidential election!"
The previous day, during a joint press conference with Italian Prime Minister Paolo Gentiloni, Mr Trump had quickly labelled the incident a "terrorist attack" - before even French authorities had done so.
"It's a very, very terrible thing that is going on in the world today," Mr Trump said. "And what can you say? It just never ends. We have to be strong and we have to be vigilant, and I've been saying it for a long time."
That last line is certainly true.