One Trump tweet is what US will recall about Asia trip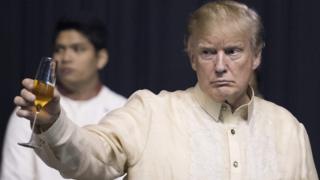 Donald Trump gave a number of high-profile speeches during his Asia trip - though most Americans would be hard-pressed to remember the details.
He pushed for a regional response to North Korea's continued work on missile and nuclear weapons programmes. He touted trade issues and American jobs - albeit by criticising his presidential predecessors. He repeatedly used the term "Indo-Pacific" as a way to emphasise the importance of India in US strategic plans for the region.
In the US, however, the news cycle churned on without him. The Sutherland Springs shooting overshadowed his first weekend abroad. The Republican rout in Virginia state elections stole midweek headlines.
Two days later, the Washington Post broke bombshell allegations that four decades ago Roy Moore, the Republican nominee in an Alabama special election to replace Jeff Sessions in the US Senate, had sexually abused a 14-year-old.
All were bigger stories than the presidential foreign forays. By far.
Read full article One Trump tweet is what US will recall about Asia trip