A Stormy (Daniels) situation: Donald Trump's porn-star (non)-scandal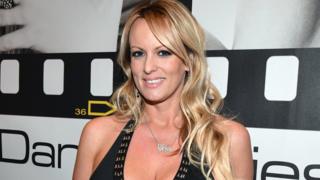 Call it the October surprise that didn't happen - and a presidential scandal that doesn't seem to be catching fire. Yet.
According to the Wall Street Journal, Michael Cohen, Donald Trump's personal lawyer, set up a private company that allegedly made a $130,000 (£94,000) payment to adult film actress Stormy Daniels in exchange for her agreement not to discuss a year-long extramarital affair she had with Mr Trump that began in 2006.
The payment reportedly took place on 17 October, 2016 - just weeks before Mr Trump's shocking general election victory over Democrat Hillary Clinton.
To place that in the timeline of major presidential election events, that was just 10 days after the infamous Access Hollywood tape in which Mr Trump boasted of making unwanted sexual advances on women made headlines, and 11 days before James Comey's equally infamous letter re-opening the investigation into Mrs Clinton's email server.
Trump lawyer Michael Cohen has said the president "vehemently denies any such occurrence, as has Ms Daniels", while the White House called the WSJ story "old, recycled reports, which were published and strongly denied prior to the election".
Read full article A Stormy (Daniels) situation: Donald Trump's porn-star (non)-scandal