Advice for Trump on his first trip overseas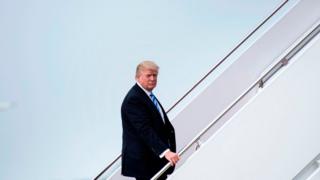 Before Donald Trump became president he would often spend days holed up in Trump Tower in New York, shuttling in a private elevator between his penthouse apartment and office.
And it's been a similar story since he moved into the White House, where he divides his time between the East and West Wings, leaving only to spend weekends at Trump-branded resorts.
As a candidate he foreshadowed a homebody presidency - touting himself as the "America First" leader who would shun foreign travel to fix the "carnage" in the US.
But now he's on his way to Saudi Arabia, to Israel, to Rome, to Brussels and Sicily, with a hugely ambitious agenda. The two things are not at odds, HR McMaster, the president's National Security Adviser, told me.
"President Trump understands that America First does not mean American alone," he said.
Read full article Advice for Trump on his first trip overseas