What Donald Trump did on his summer holiday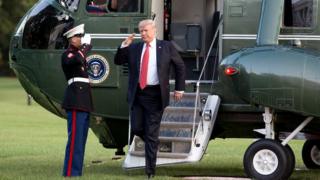 This week across America, millions of children will be getting ready to go back to school and returning home that evening with their first work assignment - an essay with the title: "What I did on my summer holidays."
Now imagine for a second you're Donald Trump, and you've just been given that piece of homework. I think the first thing you're going to do is ask for a few extra sheets of paper because, what a summer.
From distant, foggy memory, I also seem to remember that the one other instruction you got from the teacher was to make it descriptive, and not too much of a list.
Well, sorry about that, Miss. This is what Donald and his pals in the White House got up to:
And this is the quiet season. This is the still, millpond of August when nothing happens; when days are long and news bulletins are slim, when surfing dogs and the battle of the bake-offs should dominate the news cycle.
Read full article What Donald Trump did on his summer holiday